15. POLYMERS – LONG ANSWER TYPE QUESTIONS
15. POLYMERS TIL
1. Write the equations for the synthesis of
(i) Polymethyl methacrylate
(ii) Polyacrylonitrile
(iii) Teflon
(iv) PVC
(v) Decron
Also give one important use of each polymer.
Ans⇒ (i) Polymethyl methacrylate :
It is used for lenses, transparent domes and sky Tights, dentures, aircraft windows and protective coatings.
(ii) Polyacrylonitrile : It is also called orlon
It is used for making clothes, carpets and blankets.
(iii) Teflon (Polytertrafluoro ethylene) :
Tetrafluoro ethylene Polyterafluoro ethylene
Teflon is used as heat resistant. It is used for coating articles and cookware to make them non-sticky. Teflon coated blades are resistant to corrosion.
(iv) PVC (Polyvinyl chioride):

It is used in manufacture of rain coats, hand bags, plastic dolls, curtain clothes and vinyl flooring. It is also used as a good insulating material in wires and other electrical goods.
(v) Decron: This is a polymer of ethylene glycol and phthalic acid. They are also called alkyl resins.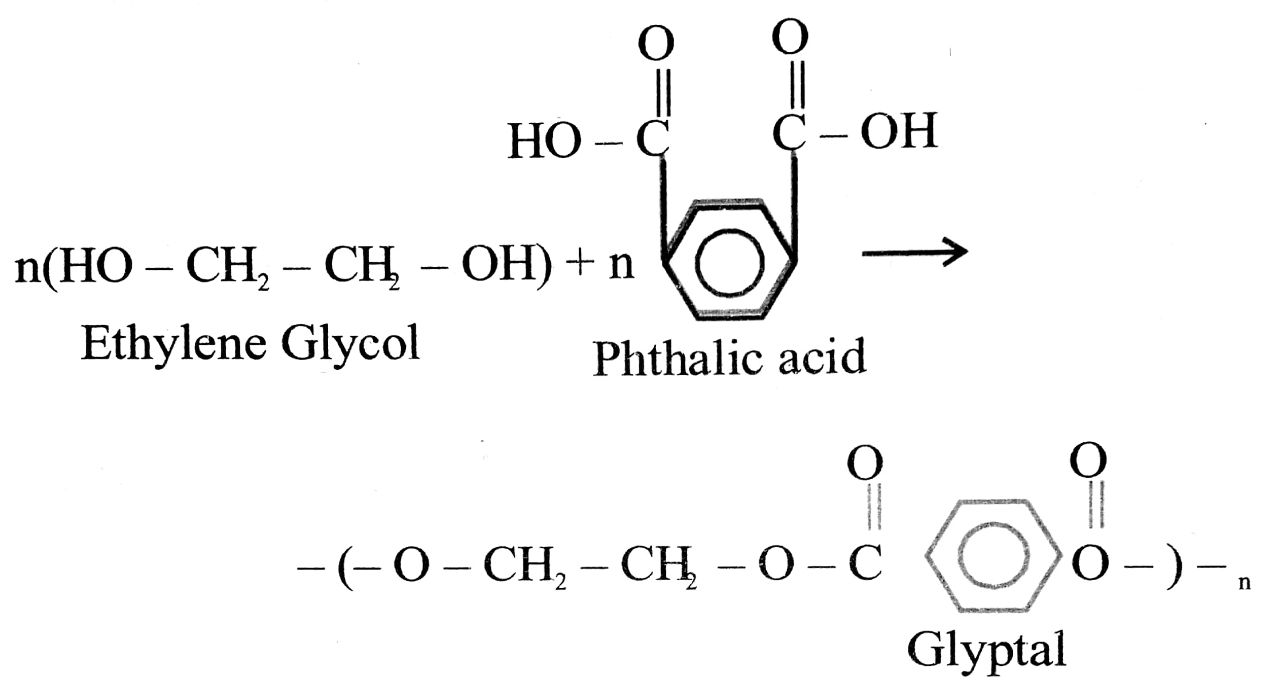 Glyptal Glyptal is used as binding material, cement etc.
Q. 2. Write the names and structures of the monomers of the following polymers :
1. Buna-S 2. Buna-N 3. Dacron 4. Neoprene 5. Natural rubber 6. Nylon-66 7. Nylon-6 8. Teflon 9. Polyacrylonitrile 10. Nylon 2-nylon 6.
Ans⇒ The names and structures of monomers are :
1. Buna-s

1, 3-Butadiene Styrene

CH2 = CH – CH = CH2 C6H5 – CH = CH2

2. Buna-N

1, 3-Butadiene Acrylonitrile

CH2 = CH – CH = CH2 CH2 = CHCN

3. Dacron

(Terylene)

(a) Ethylene glycol

(b) Terephthalic

           acid

HOCH2 – CH2OH

4. Neopr-

        ene

Chloroprene

5. Natural

rubber

2-Methyl-1,

3-butadiene

6. Nylon-66

(a) Hexamethy




lendiamine




(b) Adipic acid

H2N – (CH2)6 – NH2

HOOC – (CH2)4 – COOH

7. Nylon-6

Caprolectum

8. Teflon

Tetrafluroethane

n CF2 = CF2

9. Polyacr-




ylonitrile

Acrylonitrile

n CF2 = CHCN

10. Nylon

(a) Glycine

H2N – CH2 – COOH

2- Nylon 6

(b) amino caproic acid

H2N – (CH2)5 – COOH
Q. 3. Define a polymer. Write the monomer used for the preparation of dacron. Mention a use of it.
Ans⇒ A polymer is a large but single chain-like molecule in which the repeating units derived from small molecules, called monomers, are covalently linked. The process by which monomers are transformed into a polymer is called polymerization.
The monomers used for dacron is ethylene glycol (ethane-1, 2-diol) and terphthalic acid (Benzene 1, 4 dicarboxylic acid)
It gives a strong fibre hence used to blend cotton in clothing.
Q. 4. Give the prepration and one use of Neoprene.
Ans⇒ It is obtained by the polymerization of choloroprene

Uses : It is resistant to petrol and other organic solvents. As such it is used for making automobile parts for use in engine.
Q. 5. How will you prepare (a) Nylon 6, (b) Melamine formaldehyde resin. To what uses each one of them is put ?
Ans⇒ Nylon 6 : It has the monomer caprolactum which is obtained from cyclohexane.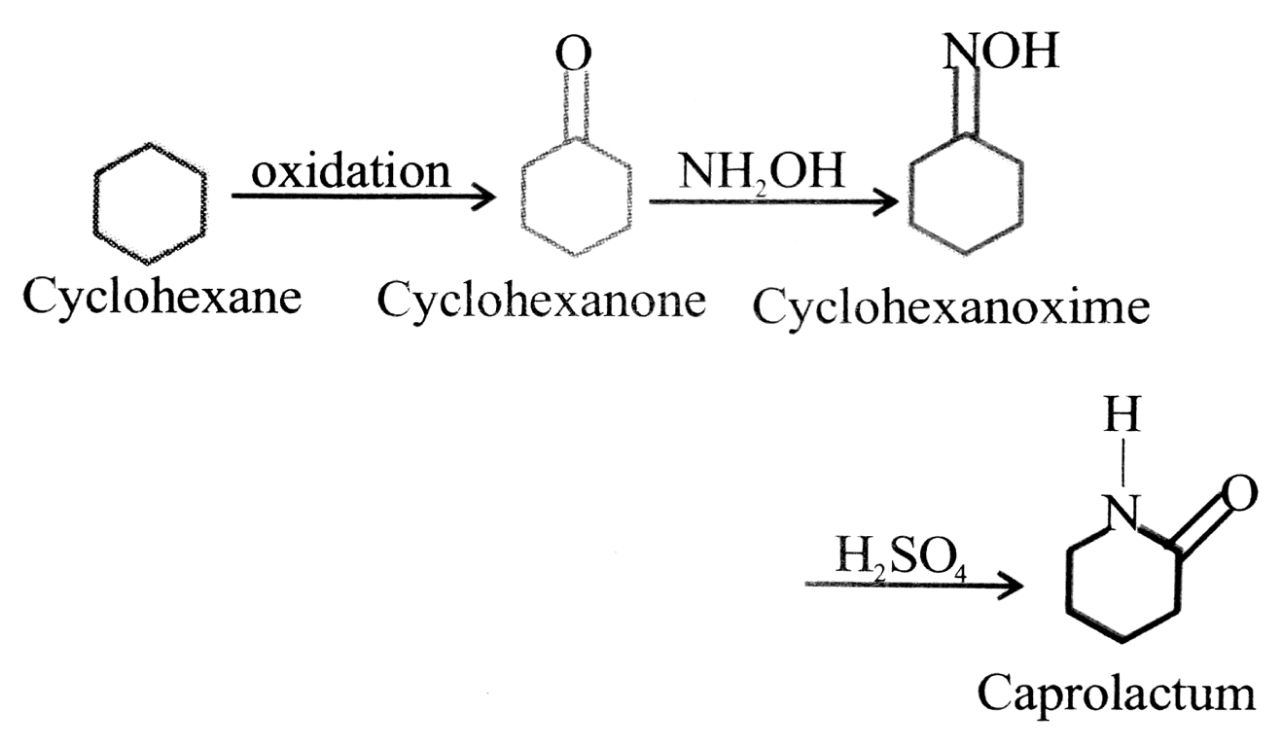 Caprolactum on heating with traces of water gives a-amino caproiacid which is a monocarboxylic amino acid containing six carbon atoms.
This polymerises to give Nylon 6.
Nylon-6 It is used in the manufacture of tyre cords, fabrics and ropes.
(ii) Melamine formaldehyde resin: It is a polymer formed by the condensation of melamine which is a heterocyclic tri-amine with formaldehyde. The polymerisation occurs as follows:
It is used in the manufacture of unbreakable cups and plates.
---
Class 12th Chemistry Long Type Question