10. HALOALKANES AND HALOARENES
10. HALOALKANES AND HALOARENES
---
Q. 1. What happens when KI is added in the reaction chamber where the following reaction is taking place ?
CH3—Cl
+ CH3 – CN
Ans. Since I– is stronger nucleophile thatn CN– and also I– is a better leaving group than Cl–. Addition of I will increases the rate for the given reaction.
---
Q. 2. Name the Grignard reagent required for converting formaldehyde to n-Butyl alcohol.
Ans. n-Propyl magnesium iodide.
---
Q. 3. Write structures of the following compounds :
(i) 2-chloro-3-methyl pentane
(ii) 1-chloro-4-ethyl cyclohexane
(iii) 4-tert-Butyl-3-iodohaptane
(iv) 1, 4.-Dibromo but-2-ene
(v) 1-Bromo-4-sec buty 1-2 methyl benzene.
Ans. (i) CH3CH2CH(CH3)CHClCH3
---
Q. 4. Write IUPAC name of the following: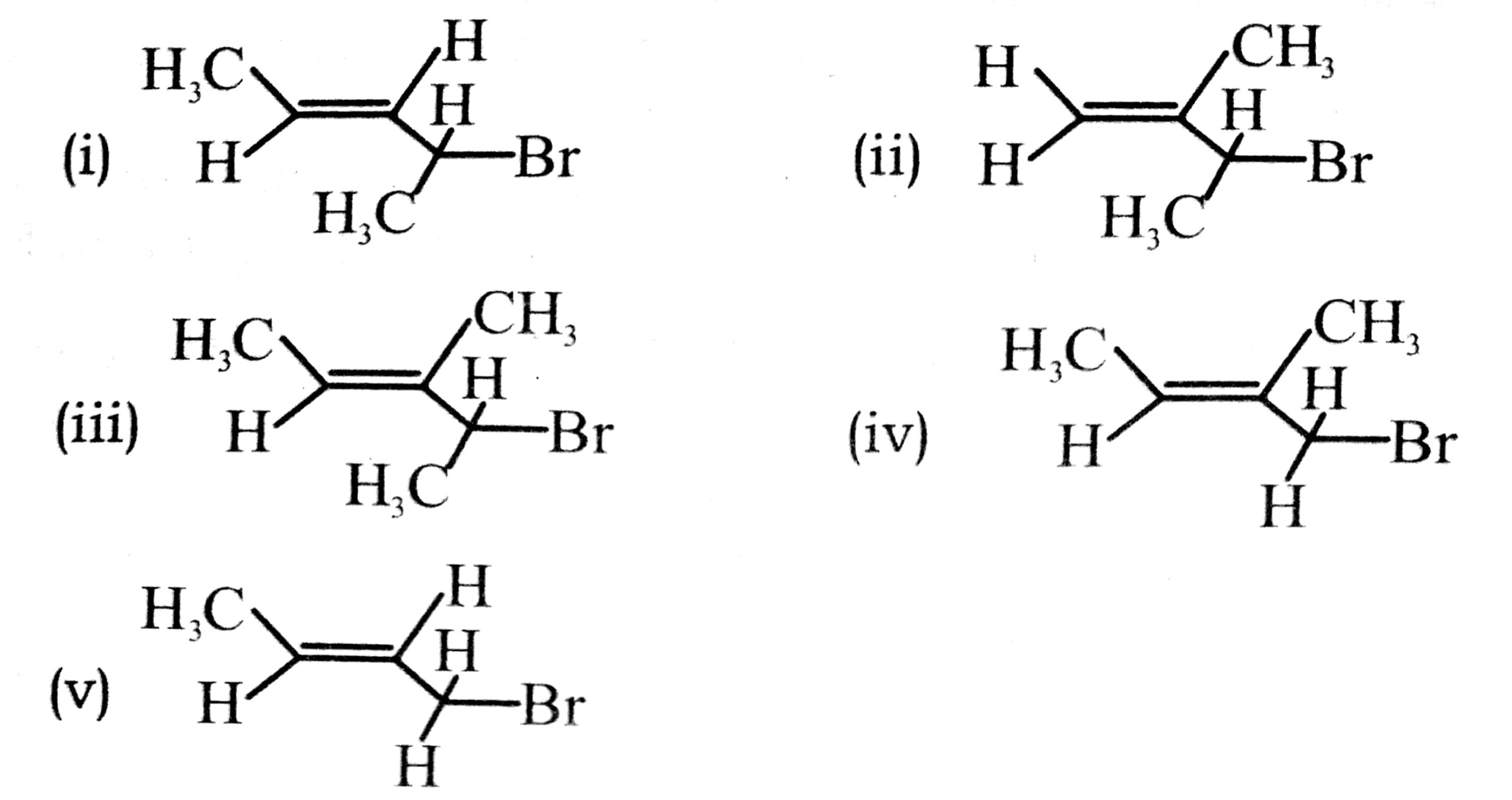 Ans. (i) 2-Bromopent-2-ene
(ii) 3-Bromo-2-methylbut-1-ene
(iii) 4-Bromo-3-methylpent-2-ene
(iv) 1-Bromo-2-methylbut-2-ene
(v) 1-Bromobut-2-ene
---
Q. 5. What do you understand by nucleophilic substitituion reaction ? Why do haloalkanes undergo nucleophilic substitution reaction ?
Ans. Nucleophilic Substitution Reaction : A chemical reaction in which a stronger nucleophilic (electron rich group which loves +ve centre) substitutes a weaker nucleophile is called the nucleophilic substitution reaction. For example,
CH2Br + OH- → CH3OH + Br–
is a nucleophilic substitution reaction.
Nucleophilic Substitution reactions of haloalkanes : In haloalkanes (R-X) the halogen is more electronegative than carbon. Thus, C – X bond is polarized as C5+ – X5-. Therefore, a nucleophilic (electron rich species) attacks the positively charged carbon atom and replaces the negatively charged halogen from R-X. Thus a new product is formed.
     |                                 |
-C5+ – X5- + : Z → C-Z + X–
    |                                 |
Nucleophile       Product    Halide ion
---
Q .6. What is meant by dehydrohalogenation ?
Ans. Dehydrohalogenation is the elimination reaction shown by a haloalkane which involves the removal of the halogen atom together with a hydrogen atom bonded to a C atom adjacent to C atom bearing the halogen. As a result of dehydrohalogenation an alkene is formed. For example :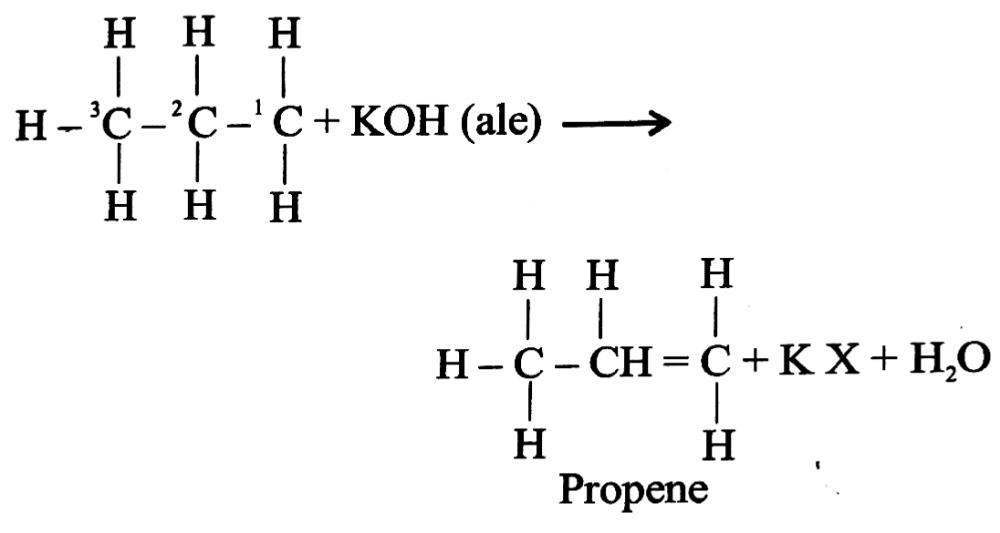 ---
Q. 7. What is Grignard reagent and is it prepared ?
Ans. Grignard reagents : Alkyl magnesium halides (RMgX) are called Grignard reagents.
Preparation of Grignard reagents : When a solution of alkyl halide (R – X) in ether is allowed to stand over magnesium turning for some time then metal gradually dissolves. In this reaction alkyl magnesium halide is formed. This compound is called Grignard reagent.
R-X+Mg

R-Mg-X
Haloalkane                 Grignard reagent
---
Q. 8. Write the equation for the following reactions :
(i) Alkyl halide reacts with alcoholic solution of potassium cyanide.
(ii) Bromoethane reacts with alcoholic ammonia.
(iii) Haloalkane reacts with silver cyanide.
(iv) Ethyl chloride reacts with sodium lead alloy.
(v) 1-chloropropane is heated at about 573 K in the presence of AlCl3
(vi) Haloalkane is heated with benzene in the presence of anhydrous aluminium chloride.
Ans.
(i) R-X +                    KCN →               R-C = N + KX
Alkyl                           Potassium          Alkyl cynide Potassium
halide                         cyanide              (alkyl nitrile) iodide
(ii) C2H5Br + NH3 (alc.) → C2H2NH2 + HBr
Bromoethane                                       Ethanamine
(iii) R-X +              AgCn      →         R-N = C + AgX
Haloalkane           Silver                     Cyanoalkane
.                              cyanide
(iv) 4C2H5Cl + 4Na – Pb → (C2H5)4 Pb + 4NaCl + 3Pb
Ethyl chloride  Sodium            Tetraethyl
                          lead alloy              lead
(v)
CH3 – CH2 – CH2 – Cl +

C6H5Br +HX
 Haloalkane                 Benzene           Alkyl Benzene    
                          (Friedel crafts reaction)
---
Q. 9. In contrast to arenes, aliphatic hydrocarbons do not undergo nitration easily.
Ans. Nitration proceeds through the attack of the electrophile NO

 at a point of high electron density. In arenes, due to resonance such electrophilic reaction is possible, while similar situation in aliphatic hydrocarbons is not possible under normal conditions.
---
Class 12th Chemistry Short Type Question English