1. ELECTRIC CHARGES AND FIELDS ( Objective Question Answer 2022 )
---
1. Which one of the following is the unit of electric field ?
(A) Coulomb
(B) Newton
(C) Volt
(D) N/C
---
2. If an electric dipole is kept in a uniform electric field then resultant electric force on it is :
(A) always zero
(B) never zero
(C) depend upon capacity of dipole
(D) None
---
3. The number of electron taken out from a body to produce 1 coulomb of charge will be:
(A) 6.25 x 1018
(B) 6.25 x 108
(C) 6.023 x 1023
(D) None
---
4. The work done in rotating an electric dipole in an electric field :
(A) W = ME (1 – cosθ)
(B) W = ME tanθ
(C) W = ME secθ
(D) None
---
5. If sphere of bad conductor is given charge then it is distributed on :
(A) surface
(B) inside the surface
(C) only inside the surface
(D) None
---
6. Electric field in a cavity of metal :
(A) depends upon the surroundings
(B) depends upon the size of cavity
(C) is always zero
(D) is not necessarily zero
---
7. The dielectric constant of a metal is :
(A) O
(B) 1
(C) ∞
(D) -1
---
8. I coulomb is equal to :
(A) 3 x 109 e.s.u.
(B) 1/3 x 109 e.s.u.
(C) 3 x 1010 e.s.u.
(D) 1/3 x 1010 e.s.u.
---
9. Each of the two point charges are doubled and their distance is halved. Force 77 interaction becomes p times, where p is :
(A) 1
(B) 4
(C) 1/16
(D) 16
---
10. Coulomb's law in vector form can be written as :

where ε0 is the permitivity of free space. The SI units of ε0 will be :
(A) N-1 m-2 C-2
(B) N m-2 C2
(C) N-1 m-2 C2
(D) N m-2 C2
---
11. The dimensional representation of e० will be:
(A) [MLT4 A2]
(B) [M-1 L-3 T4 A2]
(C) [ML-2 T2 A-2]
(D) None of these
---
12. When placed in a uniform field, a dipole experiences :
(A) a net force
(B) a torque
(C) both a net force and torque
(D) neither a net force nor a torque
---
13. A parrot comes and sits on a bare high power line. It will :
(A) experience a mild shock.
(B) experience a strong shock.
(C) get killed instantaneously.
(D) not be affected practically.
---
14. The SI units of electric dipole moment are :
(A) C
(B) Cm-1
(C) Cm
(D) Nm-1
---
15. If two conducting sphere are connected after charging separately then :
(A) Electrostatic energy sphere energy wil remain conserved
(B) Electrostatic energy charges remains conserved
(C) Electrostatic energy energy and charge remains conserved
(D) None
---
16. A semicircular arc of radius r is charged uniformly and the charge per unit length is λ The electric field at the centre is :
---
17. When a dipole of moment " p is placed in uniform electric field e, then the torque acting on the dipole is :
---
18. The graph drawn between V are r for a non-conducting charged solid sphere of radius R for r<R will be :
(A) straight line
(B) parabola
(C) hyperbola
(D) None of these
---
19. Corona discharge takes place :
(A) at the surface of a conductor
(B) near the sharp points of a conductor
(C) outside the conductor
(D) at the centre of the conductor
---
20. The belt of a Vande Graaf generator gets charge by :
(A) corona discharge
(B) induction
(C) electrification
(D) None of these
---
21. Quantisation of charge implies :
(A) Charge does not exist
(B) Charge exists on particles
(C) There is a minimum permissible magnitude of charge
(D) Charge can't be created
---
22. The conservation of electric charge implies that :
(A) Charge can't be created
(B) Charge can't be destroyed
(C) The number of charged particle in the universe is constant
(D) Simultaneous creation of equal and opposite charges is permissible
---
23. The number of electrons contained in one coulomb of charge is :
(A) 6.25 x 1018
(B) 6.25 x 1017
(C) 6.25 x 1019
(D) 1.6 x 1019
---
24. The unit of intensity of electric field is :
(A) metre/volt
(B) Joule/newton
(C) Coulomb/newton
(D) Newton/coulomb
---
25. 1 V equals to :
(A) 1 J
(C) 1 JC-1
(C) 1 CJ-1
(D) 1 JC
---
26. 1 Vm-1 equals to :
(A) 1 N
(B) 1 Mm-1
(C) 1 NC-1
(D) 1 J-1
---
27. The minimum amount of charge observed so far is :
(A) 1 C
(B) 4.8 x 1-13 C
(C) 1.6 × 10-19 C
(D) 1.6 x 1019 C
---
28. The ratio of electric force between two electrons to the gravitational force between them is of the order :
(A) 1042
(B) 1039
(C) 1036
(D) 1
---
29. A spherical equipotential surface is not possible :
(A) for a point charge
(B) for a dipole
(C) inside a uniformly charged sphere
(D) inside a spherical conductor
---
30. Charge on one proton in Coulomb is :
(A) 1.6 x 10-19
(B) 9.1 x 10-31
(C) – 1.6 x 10-19
(D) None of these
---
31. The energy density at a point in vacuum where the electric field is E, will be :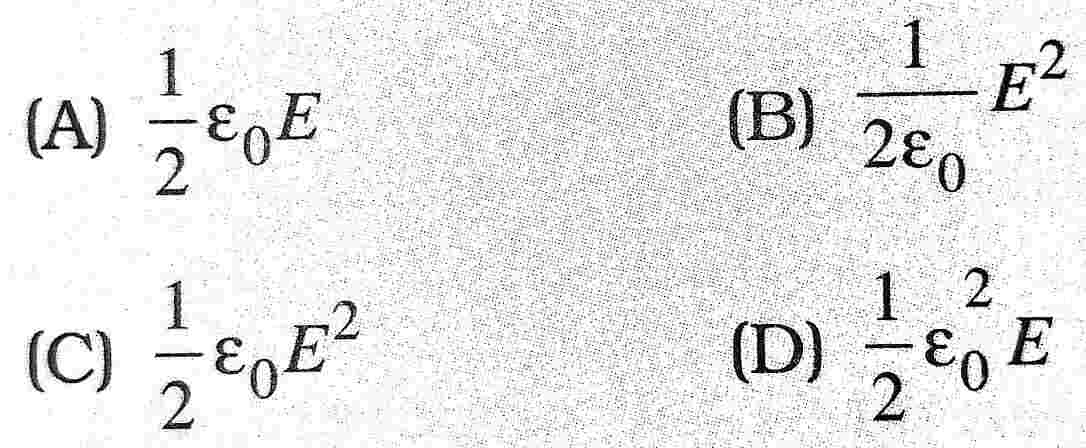 ---
32. Electric field intensity at the centre of an electric dipole of length 2d is :
---
33. Electric field due to a solid non-conducting sphere inside varies as :
---
34. Ratio of electric fields due to an electric dipole on its axis and on the perpendicular bisector of the dipole at the same distance is :
(A) 4:1
(B) 1:4
(C) 2:1
(D) 1:2
---
35. SI unit of dielectric constant is :
(A) NM-2 C-2
(B) NM-2 C2
(C) No unit
(D) F/N
---
36. A point charge +q is placed at the mid-point of a cube of side a. The electric flux emerging from a cube is :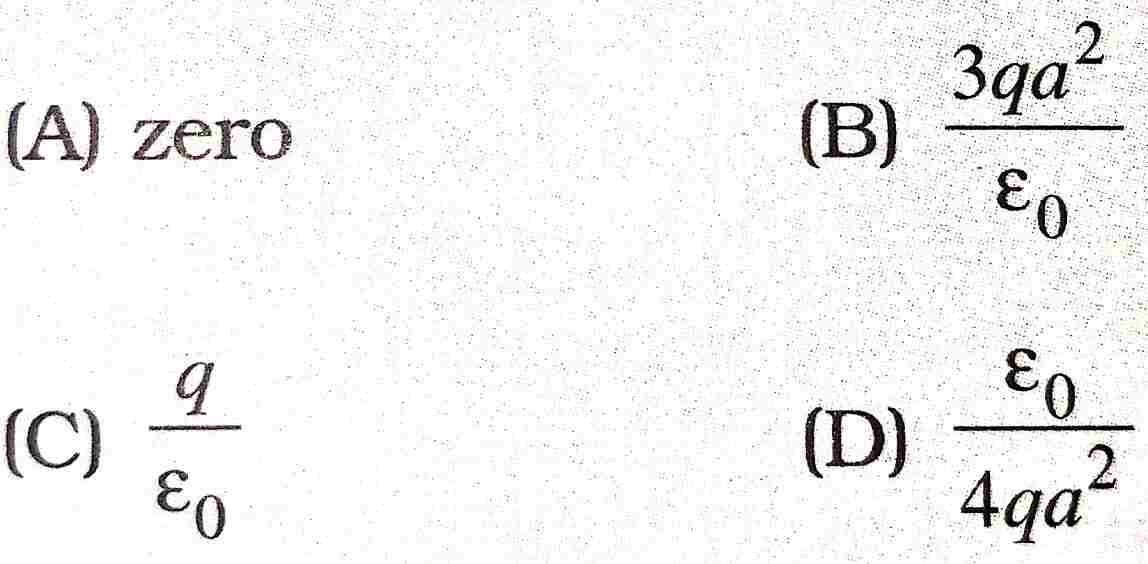 ---
37. A charge Q is placed at the mouth of a conical flask. The flux of the electric field through the flask is :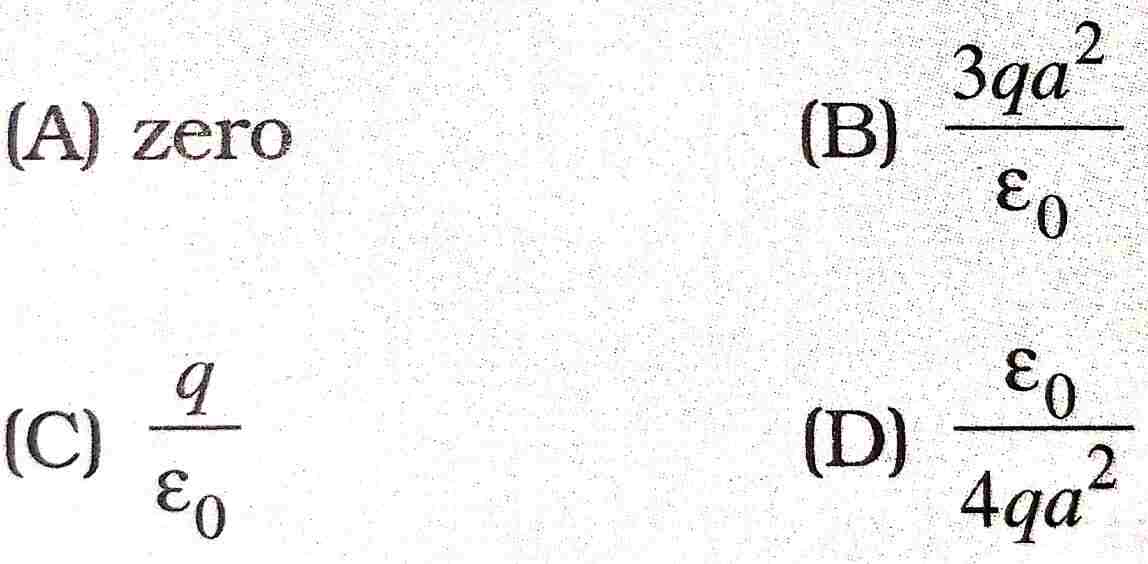 ---
38. A long string with charge per unit length λ passes through an imaginary cube of edge'a'. The maximum flux of electric field through the cube will be:
---
Class 12th physics objective question in English